I've had this bike for a little over 10 years. Built it from a wrecked basket case. Actually the start of it wasn't even enough to satisfy true "basket case" criteria. The lower end was together but the case was cracked. Frame was trashed, no tranny or front end. Came with a box of odds and ends, no tanks or fenders.
On the left and above is what it looks like now, but the photos below show how I originally put it together. Used a cherry wishbone frame and original style fenders , oil tank, leather saddlebags, floor boards, windshield and all.
The Chassis looked like a new old HydraGlide. But it got major updates like disc brake on front w/dual piston caliper rear disc, tricky hand/foot operated clutch w/hand shift set-up, dual plug early shovel heads. (Branch flowed w/ hard valve seats, Manley nitrite valves and Ampco 45 guides) Crane tappet rollers & pushrods, Crane single fire ignition w/dual Accel coils, S & S "L" series carb and "B" grind Andrews cam. Gearbox is late model 4-speed case w/ Andrews close ratio gearset, shafts and shifter forks, Primo 11mm beltdrive & 25/47 gears. With mufflers on, all ya hear is the Avons slappin and the wind whistlin by the windshield. I rode it like this for a couple or so, maybe nearly 3 years. Thanks to Kenny and George at Coos Cycles in Coos Bay OR, for putting together the lower end. Leroy at American Iron in Eugene OR, laced and trued the wheels. Machine work and welding by Jim Messler of Messler Products. Paint & fabrication by yours truly in my Shop: Tattoo Cycles, Eugene OR.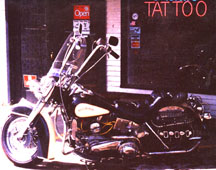 Click on the image to display larger graphics and press the [BACK] arrow to return

Tear 'Em Down, Then Build It Again
So a few years ago I decided to do a make-over! I had rebuilt the old swing arm frame by then and also had aquired a "Little John" 5 speed transmission. For anyone who hasn't run across one, they were made in Denver back in the 70's and early eighties. A newly cast casing that accepted a new gear and counter gear and shafts set up that included a fifth, overdrive, gear. The gears were all made by Andrews, who shaved them enough to only widen the tranny 5/8ths of an inch on the kicker side. The lid is ratchet with an extra driving dog and clutch fork on the lengthened shaft. Needless to say it looks like a stock 4 speed tranny with a ratched lid. The main snag with bolting it right on was having longer clutch rods made from stainless drill rod, and the fact I had to give up my hand shifting after all these years. Left the motor as it was, except I wound up gearing down to 22/51 because of the Overdrive factor. Aluminum primary cover & headlight shroud, lowered swing arm, shorty apehangers, new fenders, late model tanks and, finally, a sissy bar for Paula changed the lines just right and dual straight pipes gave her nice gruff voice to match the bite.
First I tried it without the windshield, bags and dual straight pipes.

---
Click on the image to display larger graphics and press the [BACK] arrow to return

But that ain't the end of it, she's going through another phase, where she'll be a nearly stock FLH w/ tour pak and the whole works. There will be a few updates and performance improvements, but stock dresser LOOKING.
If you are interested in checking out my Motorcycle shop website for more information, Click Here. Or go straight to a secure SSL ONLINE MOTORCYCLE PARTS STOREFRONT Click Here.

The last bike I had before building the Shovelhead, was the Panhead you see below. I built this one as well and pretty well from scratch, as well. And as with the Shovel, I bought a basket case that wound up being a "build from scratch" project any way. I do really like classic old Harley styling. This Panhead has lots of modifications, but still has that style, doesn't it?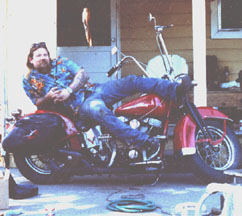 Copyright © 1997-2001 Rusty Savage All Rights Reserved.
Legal Notices | Terms of Use | Privacy Statement |