Sailor Moses
I first met Sailor Moses back in 1989 in Sturgis SD. That is, I knew and had seen him around at conventions for a number of years, but I never spoke to him. That year I did. He came into my booth and looked around for a while and spoke with Hopi Qual and Fat Cat, whom I was was working with. After a few minutes he looked at me and said, loudly, Well, I'm Sailor Moses and I was wondering when did you ever buy any of this flash from me?" He kind of arched his eyebrow and raised up on of my flash books. He went on, "I seen you around but I never talked to ya before", still eyeing me. So I sort of stammer out that I musta copied them from one of my "partners" along the way, or something. So he threw up his arms and says "well thats a fine way to treat friends isnt it?", looks around the room and then saunters off.
I must admit that Sailor Moses was mentoring me the first day I really met him. I did used to copy flash, when offered, from time to time in my travels and in those days didnt think to much of it. I pretty well stopped right then and there the day Moses said that to me. Since then I wound up buying all Moses old flash sets and everything.
We became good friends and worked together at conventions. He came to my shop and worked and I at went to his Biloxi Shop. He was still with Michelle the last time I worked there and Doc and Misty worked the Pass St shop and the Professor and someone else was working the Beach shop. He tattooed me a couple of times and I tattooed him as well. We worked Sturgis one year and Daytona another. I enjoyed talking with Moses and, of course, partying.
When it came to Tattooing he was a technician and a craftsman as well as the guru or "Practitioner of Hocus Pocus". While visiting , he spent a great deal of time showing techniques he'ld learned and seen. Talking about details of information he had gotten from some of the great Tattooers of our time. He had such a sense of who he was as cog in a clock. He so understood the magic of this industry and effects and symptoms of the alure and greed. he was a little opinionated many would say. And so would I. He loved the people that he tattooed and, you know, he really wanted to find that in the Tattoo world. He was true to himself and dedicated to his craft and a monument to his friends and a sometimes a funny guy. Sailor Moses left his indelible mark on many, many, manysouls on his journey on this planet and we thank you.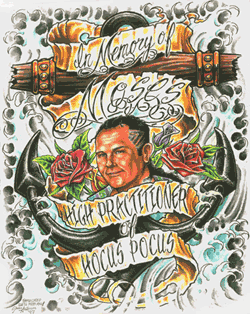 Click for a larger image.
Memorial drawn by Shawn Anderson
---