Bert Rodriguez'
1996 Blues & Tattoos Show

................................................Santa Rosa California Convention
Not only is Bert Rodriguez' Blues & Tattoos Show an excellent get together of top notch artists and enthusiastic tattoo fans, but the entertainment was first cabin for sure. And to top it off, not only did we do enough tattoos to pretty well pay the trip, our shop took home a lions share of 1st & 2nd place trophies. Two 1st places and one 2nd for some of my work, and another 1st for a former artist here. These are from Blues & Tattoos Show in February of '96............

2nd Place - Womens Overall Tattoo

The backpiece on April is still a little shy of completion, with about 22 hours so far. The Koi and Lotus are a MAJOR coverup and redo of a very botched clump of tattoos. She took the 2nd Place Trophy for Overall Womens Tattoos for these two and some others that I have done on her, and a coverup tattoo by Mike Button who worked here several years ago.
1st Place Music Related Tattoo
Mike's tattoo, also won her the 1st Place Trophy for Music Related Tattoo.
1st - Womens Individual Tattoo
1st - Womens Overall Tattoo



The leg and hip piece on Paula took about 17 hours and is still in the planning stages for some color additions. I was very tickled to see her get a 1st Place Trophy for Womens Individual Tattoo. I have also fixed up and added to, or covered up several other tattoos she had, and that was enough to win her another 1st Place for Womens Overall Tattoos.

Photography by Dan Roberts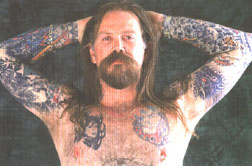 Dan Roberts is a photographer from Salem Oregon who travels working for TATTOO(TM) magazine(Paisano Publications Inc, Agoura Hills CA). Dan shot all of the photos you see on this page. From his 35mm slides, I scanned them at 9600 dpi and formatted them, into the JPG files you see here, with Photoshop 3.0. Here is a photo of me, that was taken during Paulas photo session. About 2 hours after the photosession Paula won 2 First Place Trophies and April had won a First and a Second.
Copyright © 1997-2001 Rusty Savage All Rights Reserved.
Legal Notices | Terms of Use | Privacy Statement |